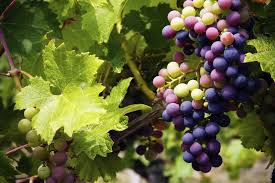 "Abide in me and I in you...
Whoever abides in me and I in him, he it is that bears much fruit." (John 15v4-5)
Maintaining a vital connection to the Lord Jesus lies at the heart of a living faith in him and that conneciton is found by allowing Jesus' words to penetrate deep into our hearts and lives: "If you abide in me and my words abide in you..." (John 15v7) Many people have found that taking a few moments every day to reflect and ponder and chew over a few verses of scripture before turning those thoughts into prayer has been the means of staying connected.
"I regard the Scripture and these great statements in it as being comparable to a great art gallery where there are famous paintings hanging on the walls. Certain people, when they visit such a place, buy a catalogue from the guide at the door, and then holding it in their hands walk round the gallery. They notice that Item Number 1 is a painting by Van Dyck, let us say; and they say 'Ah, that is a Van Dyck'. Then they pass on hurriedly to Item Number 2, which is perhaps a portrait by Rembrandt. 'Ah,' they say, 'that's a Rembrandt, a famous picture'. Then they move on to further Items in the same way. I grant that that is a possible way of viewing the treasures of an art gallery; and yet I have a feeling that when such a person has gone through every room of the gallery and has said, 'Well, we have "done" the National Gallery, let us now go to the Tate Gallery', the truth is that they have never really 'seen' either of the galleries or their treasures. It is the same in regard to the Scriptures. There are people who walk through [a] chapter … and they feel that they have 'done' it. It is surely better to stand, if necessary, for hours before this chapter which has been given to us by God himself through his Spirit, and to gaze upon it, and to try to discover its riches both in general and in detail."
(D. M. Lloyd-Jones, God's Ultimate Purpose, Banner of Truth, 1978, 171.)
Marc Baker, Vicar of Kea, Truro, led a superbly helpful church family morning in February 2018 equipping us to meditate or 'brood' on scripture: turning it over and over like a multifaceted diamond, and allowing it, like a depth charge, to sink deep into our hearts so that the Holy Spirit is able to explode his powerful word into our hearts. Here are Marc's notes:
Here are some useful resources to help you reflect on the Bible:
If you have a smart phone, PrayerMate, written by our first Ministry Trainee, Andy Geers, is a brillant app (available for both iOS and Android) that helps you to actually pray for all the people you say you'll pray for by organising all of your prayer points together in one place.
Whether its your personal prayer points for friends and family, regular updates from some fantastic mission organisations, or the latest PDF prayer letter that just arrived in your inbox, PrayerMate puts it all together in one place and helps you get on and pray.
It includes the option of subscribing to a number of useful 'prayer feeds' which helpful apply the idea of mediating on the bible and turning it into prayer. Each day these 'feeds' provide a different item for prayer based on scripture. Particularly recommended are:
Under 'Biblical Prayer and devotions'
Take words with you (Praise/Confess/Affirm)

Heavenward by Scotty Smith
Under 'Church life'
Ligonier - Praying for your church family

TGC - 18 things to pray for your church
and under 'Evangelism & Youth work'
Challies - 18 prayers for unbelievers
And here's some further resources for fueling your prayers from scripture:
And if you're looking for some encouragement in prayer, Andy Naselli has written a great article on 12 reasons why you should pray scripture